Advanced Cutting Systems designs, develops, manufactures and markets worldwide a complete range of profile cutting machines.
The machines offer Oxy-fuel and/or Plasma arc cutting torches along with a variety of marking tools and drilling heads.The range extends from cantilever frame machines which use optical tracing of line drawings up to CNC portal frame designs which incorporate the unique ACS floating beam to eliminate mechanical oscillation.
A motorised torch station with rack & pinion drive in both axes. Solenoid operation of all gases Including oxygen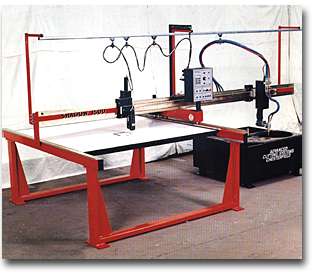 venting and gas manifold for multiple torches
The SILHOUETTE offers a breakthrough in profile cutting machine performance. A novel patented design completely eliminates the mechanical oscillation associated with conventional portal frame cutting machines.
The SPRINT is a unique, premium quality machine especially designed for easy and economical use, at an affordable price.
Here is the perfect solution to small cutting jobs around the workshop. T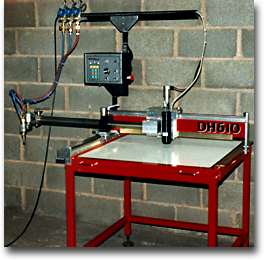 he DH610 is a compact, truly transportable profile cutting machine designed to be taken to, and mounted on, the actual plate to be cut. It is the ideal machine for workshops with limited overhead crane facilities and those requiring a low cost system which will not occupy a permanent location on the shop floor.
The smallest machine in the range is the DH610 which is ideal for technical colleges and training schools. The DH610 is also an ideal replacement for single torch radial arm machines where space is restricted.
All cantilever machines can be supplied with an optional microprocessor in addition to the optical tracing system and they have a speed range which permits Plasma cutting at speeds in excess of Oxy-fuel profiling.
The Shadow and Shadow XL range offer cantilever designs with larger plate widths up to 3000mm.The Shadow CN Portal Frame Machine is a low cost alternative to the silhouette range of machines.
At the top of the range are the Sprint and Silhouette machines. These are portal frame designs with twin-side synchronised longitudinal drives and floating beams. Both Sprint and Silhouette ranges offer high speed profile cutting so that thin sheets can be accurately cut with Plasma including high density Plasma processes.
PDF brochures for all products on this page can be downloaded by clicking the appropriate title below
A motorised torch station with rack & pinion drive in both axes. Solen

oid operation of all gases Including oxygen venting and gas manifold for multiple torches
A dedicated CNC profile cutting machine for the smaller workshop